Telecom Expense Management Services
Save money, gain clarity, and simplify the purchasing process with the right telecom expense management service.
Frustrated with the chaos and complexity that surrounds telecom and TEM procurement? TPG brings a disciplined approach that simplifies the process, making it easier and less stressful than ever to connect with the ideal TEM provider and start saving.
Technology Procurement Group will be there every step of the way as you identify the TEM provider that's right for your organization. Engage in a streamlined RFP process with the help of our experienced and knowledgeable procurement specialists.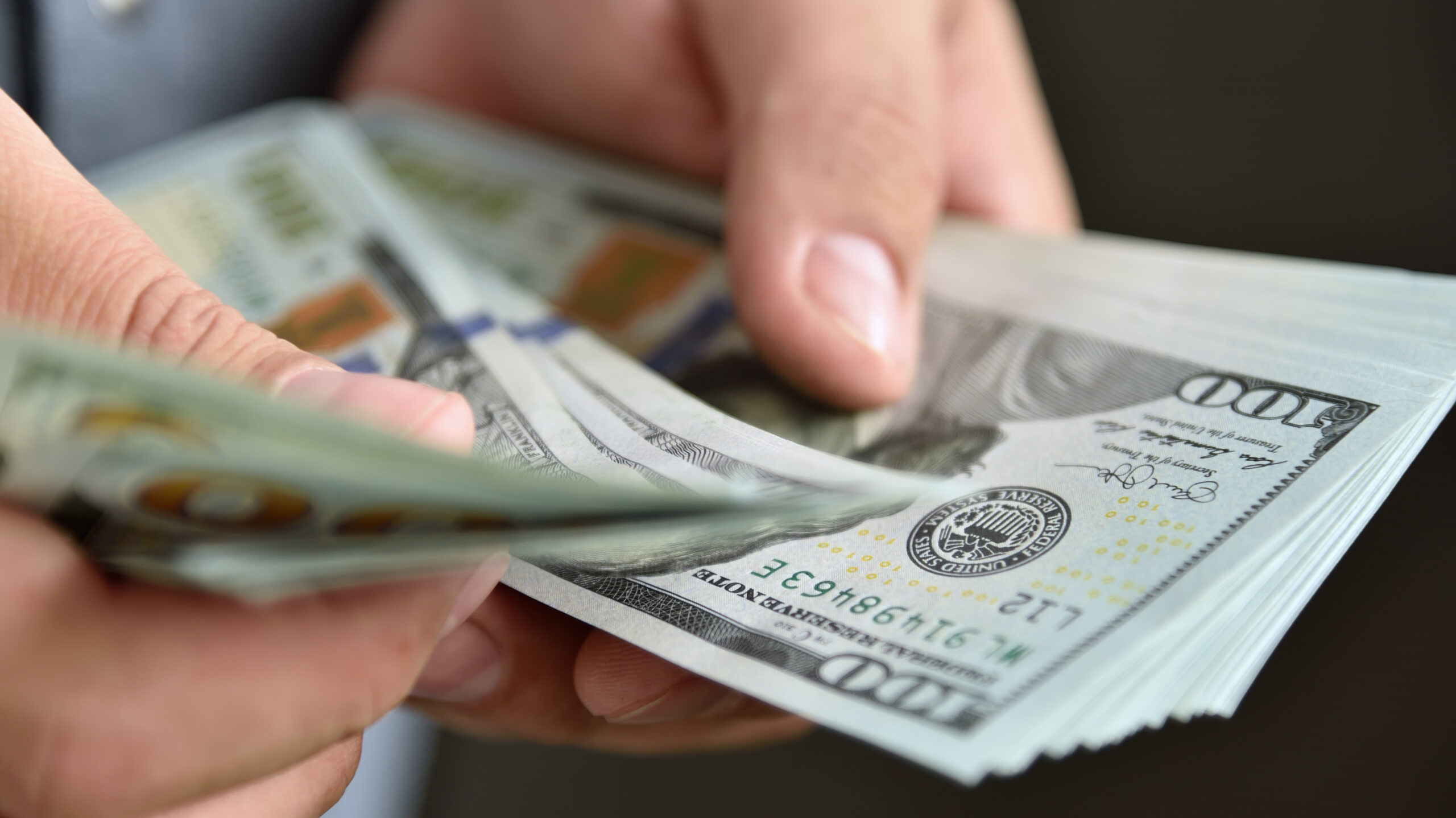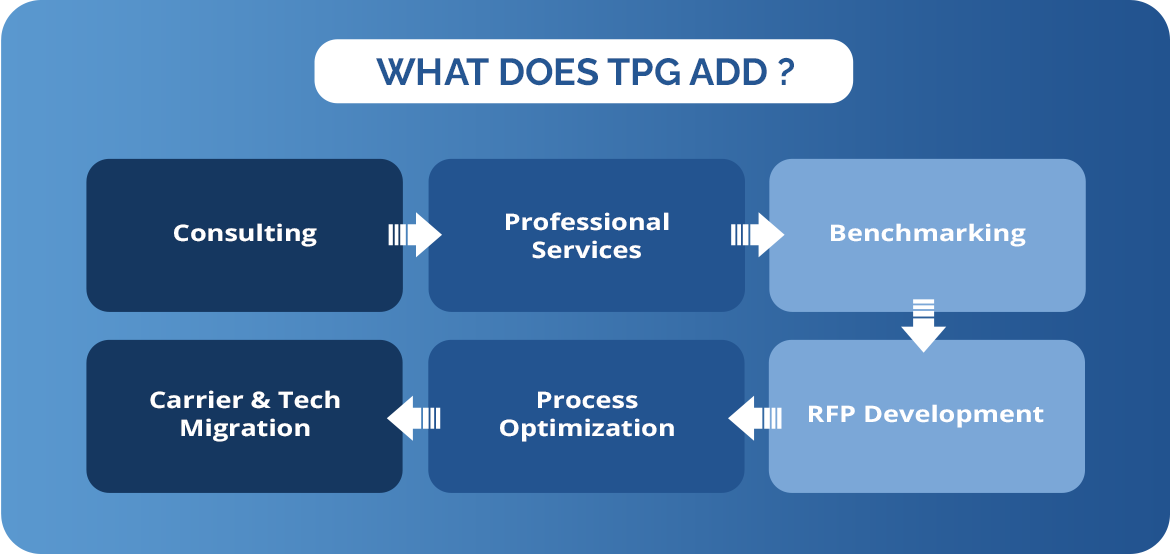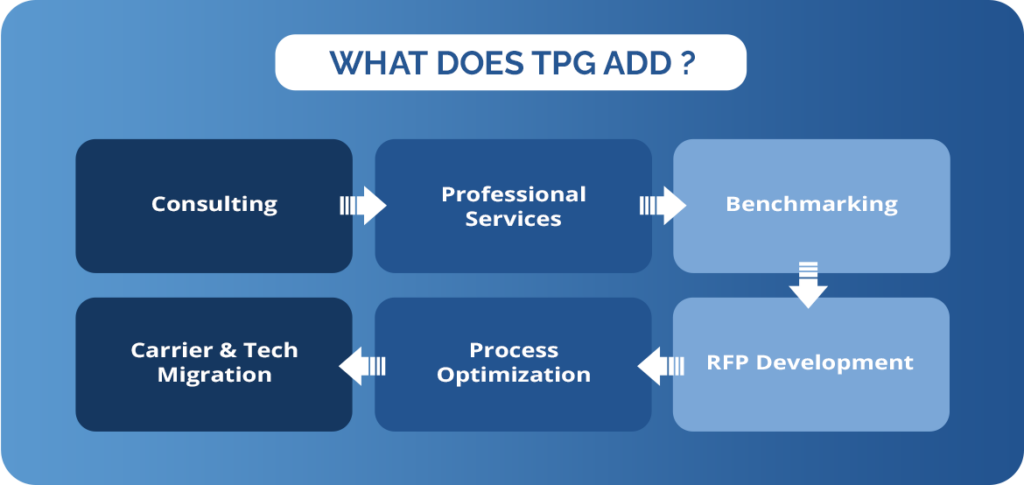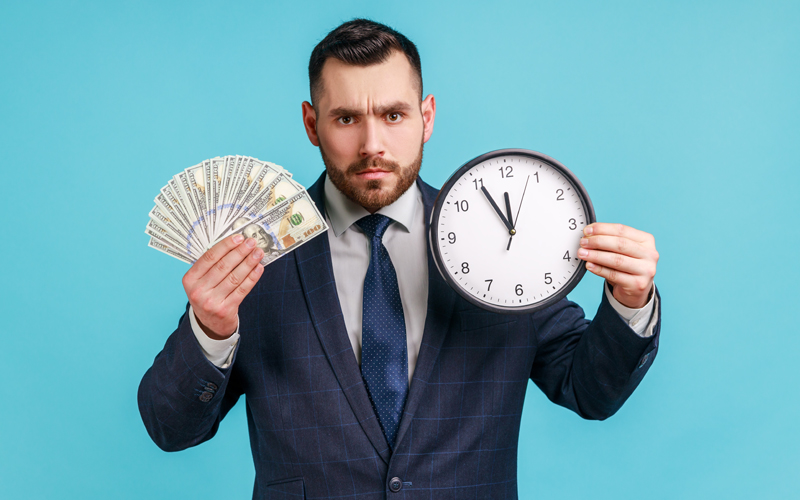 Save money, time, and effort with TEM services
Under the umbrella of telecom expense management are multiple separate processes, all of which work together to benefit your business and maximize savings. With TEM, you get auditing, optimization, change control, contract management, inventory management, help desk management, security, reporting and analysis, and invoice processing. Here's a visual overview of TEM services, plus the added bonuses TPG brings to the table.
Some organizations believe it's better to simply take care of expense management themselves, but this can be a costly mistake. While enterprises can get by without TEM, they're often spending much more than they need to on telecom services. 
And it's not just money that enterprises are spending too much of–it's also time, resources, and expertise.
Telecom Expense Management Cost Justification and Estimated ROI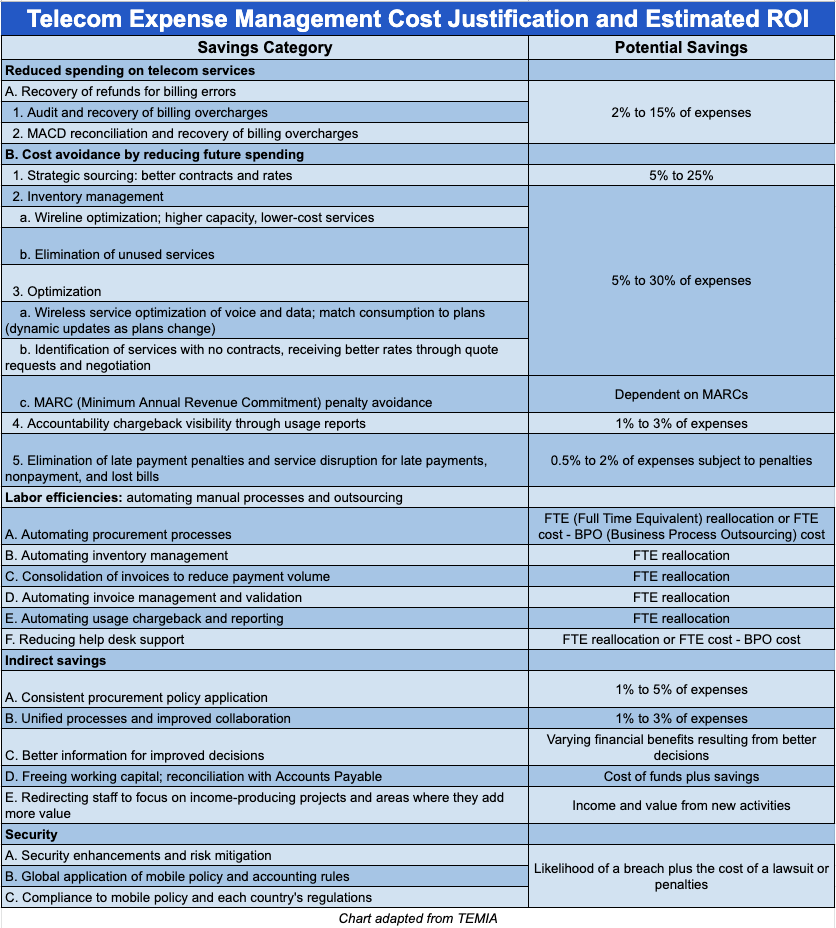 Attempting to maintain and optimize telecom contracts and spending in-house requires IT employees to focus their time and efforts on telecom, when they could be driving profits and innovation in other areas.
Many companies know they're spending too much on telecom, but still hesitate to invest in telecom expense management services. The idea of spending more on an area that's already costing too much can seem risky.
So, what's the ROI for companies that utilize TEM services? Let's take a look at the breakdown in the chart below.
As you can see, there's a clear argument for spending on TEM services. Not only does it provide direct savings on telecom, but it also creates opportunities for indirect savings and increased productivity among your IT employees, resulting in increased profits.
PR Newswire explains, "Savings from refunds and credits for billing errors can equate to up to 15%, reduction in future spending can total a maximum of 40% savings, while optimization activities can easily exceed 22%. While it must be said that much of this activity overlaps, and savings of up to three-quarters of current telecom spend is unattainable, it's not uncommon for a comprehensive TEM program to reduce telecom expenses by millions of dollars of spend annually."
Investing in telecom expense management services is the right choice for organizations like yours, but then the question arises of how to find the right TEM provider. The TEM procurement and RFP process is one that takes significant time and effort, and that's where Technology Procurement Group can help. We'll show you the most important distinctions between various providers, looking at price competition, geographical reach and coverage, and service quality (including consistency, reliability, and continued management efforts).
Through consulting, professional services, benchmarking, RFP development, process optimization, and carrier and tech migration, TPG will help you negotiate telecom contracts and find the TEM provider that's best equipped to earn you notable savings and an impressive ROI.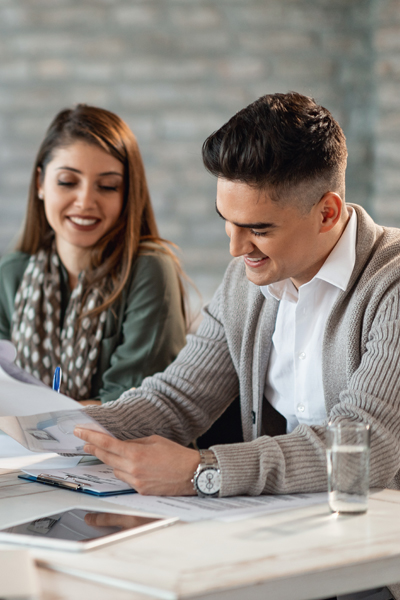 Enjoy a simplified purchasing process
Choosing between telecom expense management providers is a true challenge. With so many factors to consider and companies to compare, it's difficult to identify the differentiators and determine which provider will most benefit your organization.
And in the past couple of years, mainly due to the COVID-19 crisis, the global market for TEM has grown exponentially and will continue to do so. As more and more employees began to work from home, we've seen increased usage of video, enterprise communications/collaboration, and IT cloud-based services. This has created new consumption patterns and new costs to consider. That's where telecom expense management comes in to manage and optimize your telecom budget.
The Telecom Expense Management market is expected to witness a compound annual growth rate (CAGR) of 14.5% from 2020 to 2025. Source: Mordor Intelligence
TPG helps you cut through the noise and target the most promising TEM providers with effective, well-written RFPs. Take the stress out of the procurement process by allowing us to assist you.
Factors Influencing TEM Vendor Selection
According to gartner's 2021 TEM Market Guide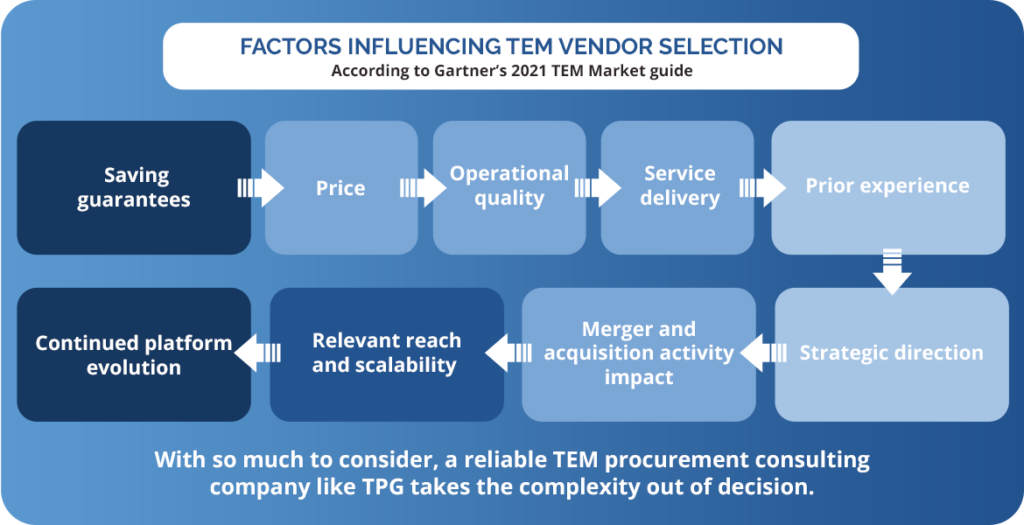 Watch your organization thrive after procuring TEM services with TPG
Employing TEM services comes with plenty of perks. There are the financial benefits, such as:
prioritizing your investments
reducing your IT spend
shortening your cost optimization cycle.
Of course, you'll also eliminate billing errors and get money back from your telecom and data networking suppliers.
You'll unlock even more savings by freeing up your time, expertise, and resources, allowing you to focus on other important aspects of your business. And you'll have a holistic overview of IT spend financials.
There's also the advantage of gaining clarity through built-in software analytics, which transform the flood of disparate data into easily digestible information that makes for actionable business decisions. TEM helps you understand the overall purchase-to-pay process as well.
And you can't forget about improved inventory, which leads to better RFP results and easier comparison to current network costs.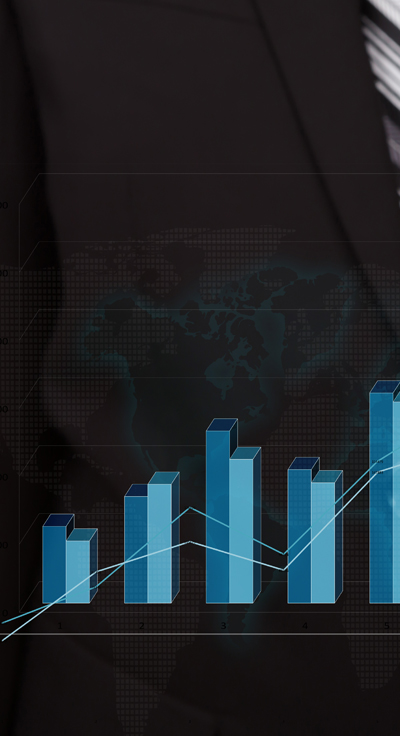 Telecom expense management puts your business in control, saves you time and money, and reduces business risks.
Below, find a few more of the numerous benefits your company will experience after working with TPG to find the right TEM provider.
What the Right Telecom Expense Management Service Bring to Your Company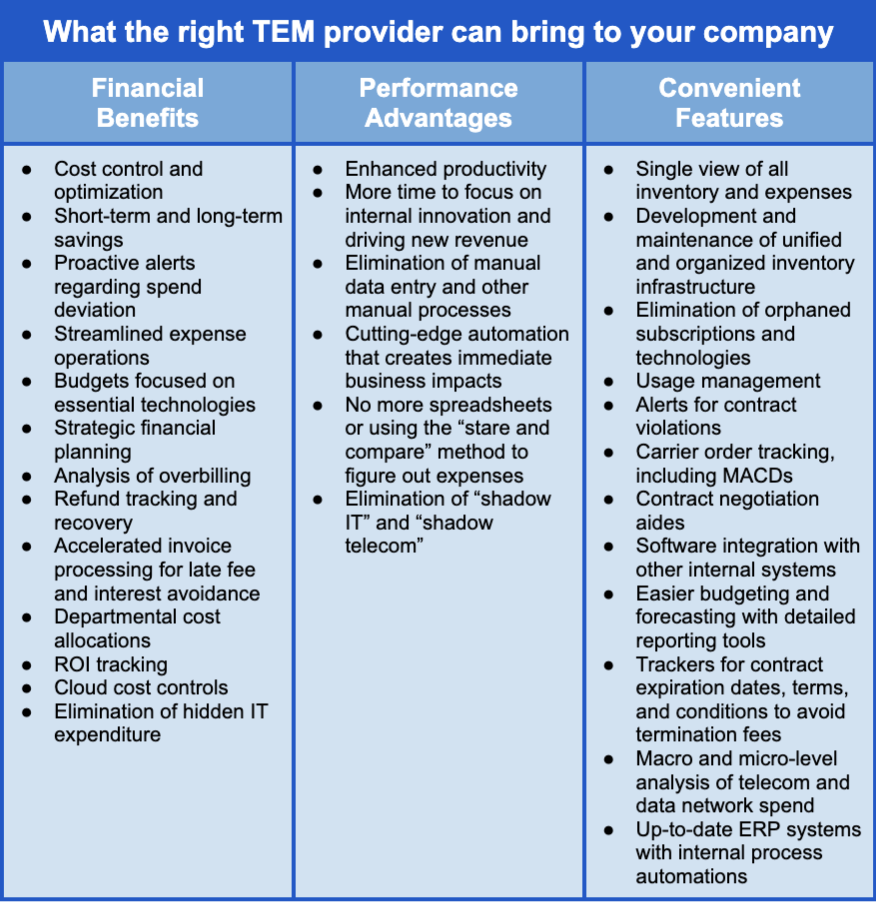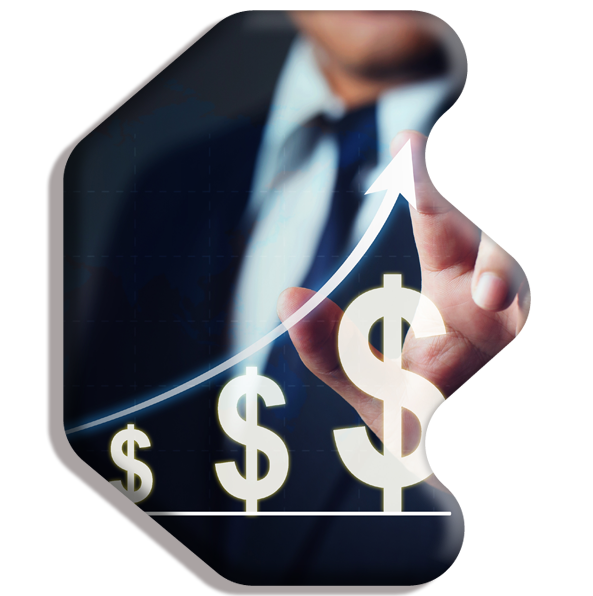 Gain leverage and utilize industry expertise with TPG
When you choose TPG, you're choosing decades of experience in telecom and TEM procurement. You'll gain the advantage of TPG's straightforward pricing, as well as our specialists' insider expertise into the telecom industry.
Ready to experience improved business process outcomes, better visibility and control of assets, enduring asset performance, reduced costs for communication and network services, and overall clarity and savings?
Even with commoditized pricing for most [telecom] services, the majority of enterprises still overspend by 30 percent or more… The reality is that TEM saves companies up to 60% annually on technology expenses.
Sources : CIO and Tangoe
Unlock the opportunity to advance your IT procurement process with Technology Procurement Group.
Call, email, or fill out the form on our Contact Us page to get in touch today.