After sending out RFPs and receiving proposals from multiple vendors, it's time to shortlist the most promising options. At this point in the procurement process, you'll likely be dealing with multiple vendors, but this step will help you narrow down your options to the final two.
The first part of this step involves evaluating vendor proposals to create a shorter list of vendors that appear to be able to meet your organization's telecom needs. The second part involves setting up discussions and presentations with these vendors and asking them various questions to help you select the two vendors that are best suited to move on to the contract negotiation step of the procurement process.
In search of expert guidance as to which vendors are the most promising? Consider working with Technology Procurement Group, where we'll put our telecom industry knowledge and expertise to use by helping you move through the procurement process with ease. Give us a call at 1-888-449-1580, send us an email at info@TPG-llc.com, or fill out the form at the bottom of the page for more information.
Contents
How to Evaluate Telecom Vendor Proposals
Scoring Responses
Set Up Discussions and Presentations with Shortlisted Vendors
Questions for Shortlisted Vendors During Discussions
How to Evaluate Telecom Vendor Proposals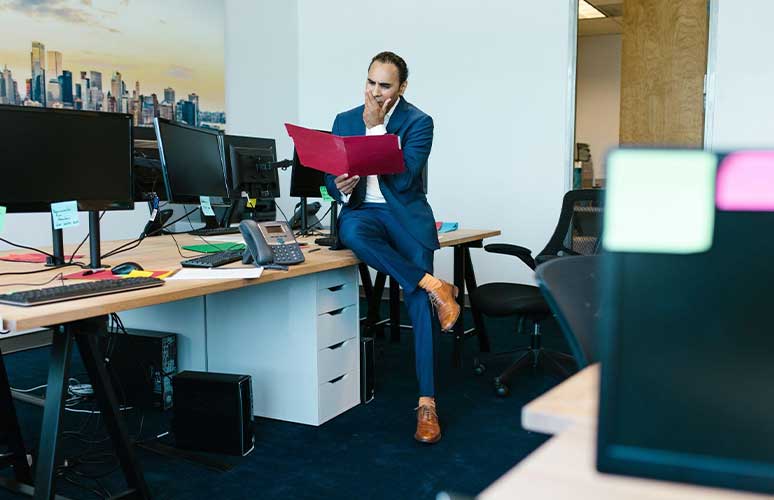 A well-written RFP specifies the type of information required in a vendor proposal. Assuming all vendors follow the guidelines specified in your RFP, it's a relatively simple process to compare each of the vendors against each other in order to determine which best fits your company's needs.
However, it's often necessary to really dive in and compare various aspects of each proposal. Below are several factors that telecom procurement professionals will want to evaluate when deciding which vendors are best suited for the company.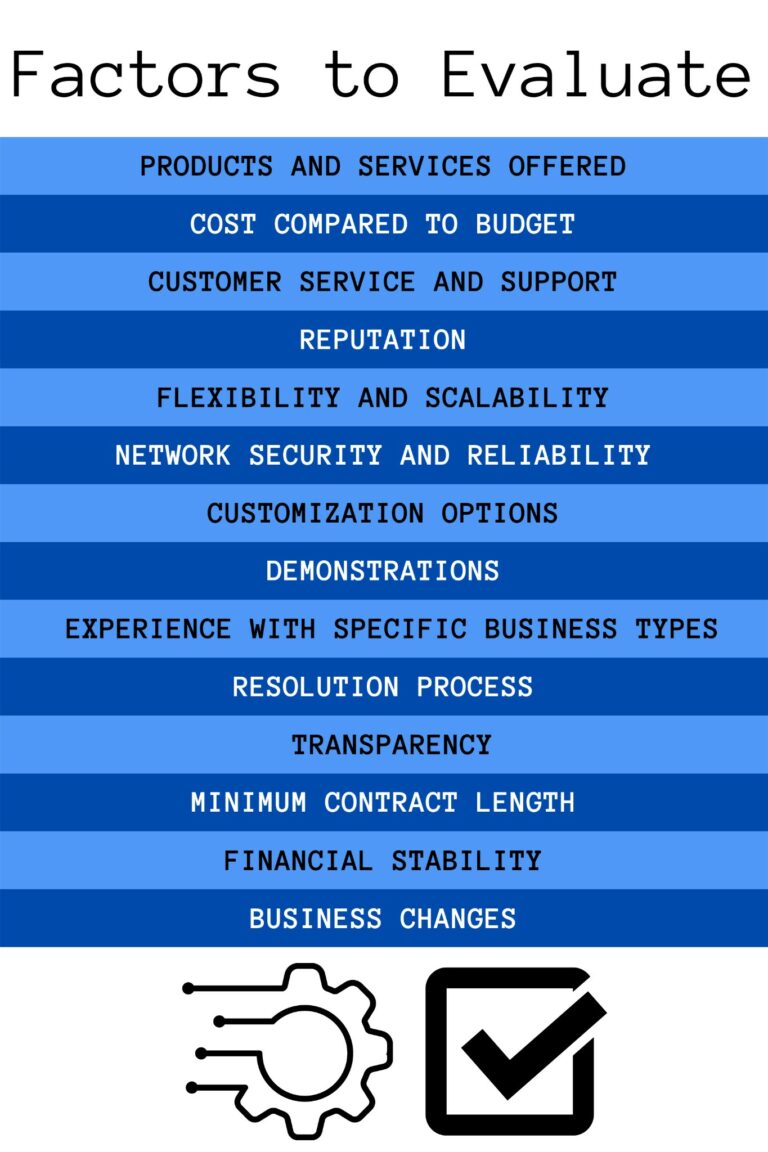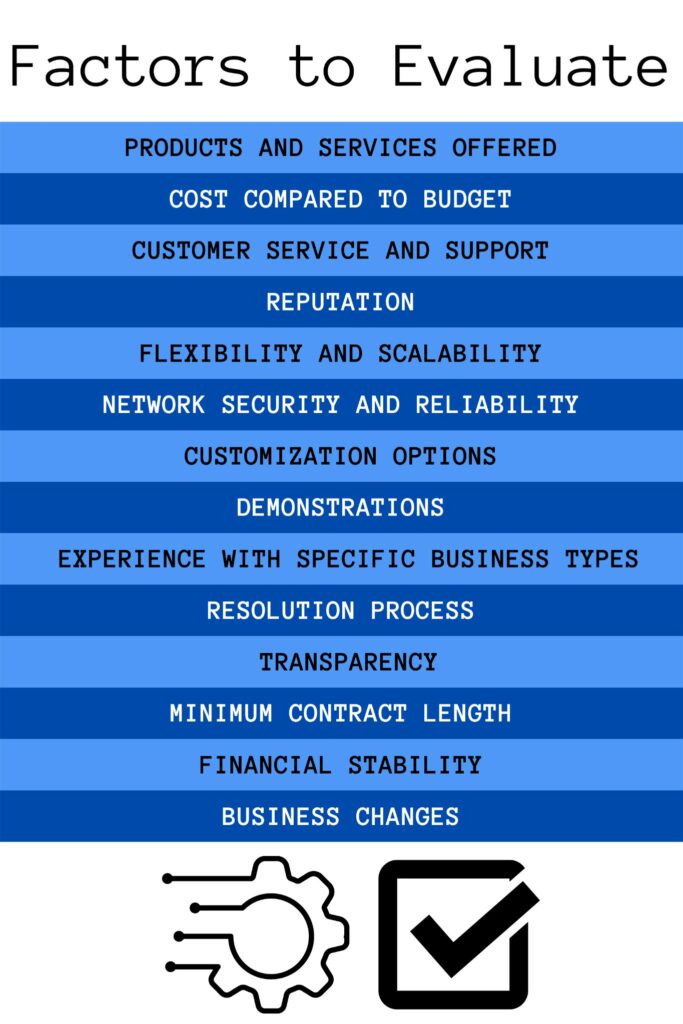 Products and Services Offered
The first and most essential factor to consider is whether each vendor offers the particular products and services that your company needs.
What types of solutions has the vendor suggested to alleviate your business's current challenges and pain points using their product and service offerings? It's always wise to look into the vendors' additional services as well, outside of the range of services they've offered. If the company expands or changes, it may eventually need some of those other services.
Cost Compared to Budget
Of course, a hugely important part of vendor evaluation and comparison is the cost and how it compares to your company's budget.
Along with looking at the price as a whole, it's also wise to look into the price times volume and the net price. Procurement professionals will want to take discounts and credits into consideration, as well as deals that come with packages and bundles.
A sometimes-overlooked component of telecom costs is the various charges and fees that apply, such as regulatory charges, access charges, surcharges, and admin fees. The cost of adding new circuits is also something to keep in mind because it can affect the business as it grows. Incremental rates applied to long-distance, wireless minutes, voice conferencing, and other services should also be noted.
Another cost factor to consider is your company's internal costs to implement a solution. How can these costs possibly be addressed by potential vendors? For example, are any of the vendors willing to waive the first two full months of billing for each site to ease transition costs and billing overlap?
Or perhaps some of the vendors are offering a one-time migration credit? Take note of these efforts on the part of vendors to ease your organization's internal costs when thinking about the overall cost and running a financial analysis.
Also related to cost, how does each vendor plan to help your company make more money through its excellent technology procurement? Not only is the cost of working with each vendor important, but the potential increased profit your business can make is also worth thinking about.


Customer Service and Support
Another critical part of evaluating and comparing vendor proposals is looking at their customer service and support.
How responsive is the vendor? Does it have a real person on the other end of the customer support number, or will you be stuck attempting to communicate with a bot or automated system?
Reputation
Vendors' reputations should also be a crucial part of proposal comparisons. While their proposals aren't likely to talk about their reputations, it's simple enough to do an online search to discover what other companies have to say about them.
You may even wish to communicate directly with other businesses that have experience with the vendors you're considering. By doing so, you can ask specific questions and get a better idea of what it's like to work with a particular telecom vendor.
Flexibility and Scalability
Flexibility and scalability are particularly important for large and growing businesses. Make sure that vendors' equipment can scale with your business.

Network Security and Reliability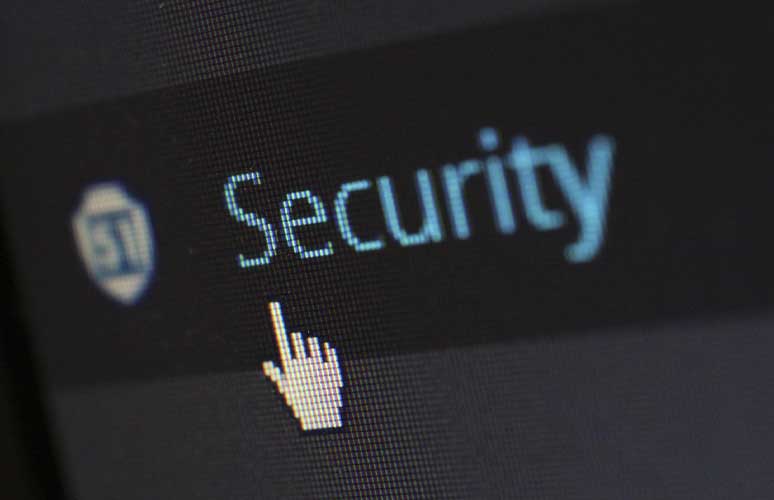 The security and reliability of vendors' networks can truly set them apart. Security is essential for businesses, as data breaches can lead to numerous problems. Meanwhile, reliability is also vital because a network that constantly goes down is not only frustrating, but can also cause a multitude of issues within your business.
Customization Options
Vendors that offer various customization options, rather than packages and bundles that can't be modified, may be better suited to particular businesses.
Demonstrations
At this point in the process, your procurement team will want to ensure that it has seen and had a chance to use all of the vendor's tools.
This could include the vendor's billing platform, network monitoring system, order tracking, repair portal, MACD portal, usage reporting tools, and any others. These systems can be the difference between a positive and negative customer experience.
Experience with Specific Business Types
Another effective way of comparing vendors is to consider whether each one has experience working with your particular company type. For instance, small startups have much different telecom needs than large enterprises.
In addition, which vendors are more experienced at solving business challenges related to telecom and information technology services? This is a vital factor to think about when evaluating multiple vendors.
Resolution Process
Yet another factor to consider is the vendors' resolution processes. When looking for the ideal telecom vendor, the best type of resolution process is typically one-call resolution. If a single call to your business's vendor representative is all it takes to resolve an issue, then your company can reduce downtime and rest assured that it won't experience lengthy network outages.
Transparency
Transparency is absolutely a factor in evaluating and comparing vendor proposals. Often, the way a vendor composes its proposal will reveal its overall level of transparency.
Using an excess of technical jargon and unnecessary wordiness can sometimes indicate that the vendor will do the same in future communications and bills. Meanwhile, a clearly-written and concise proposal that lays everything out in plain, direct language is a much better indicator that the vendor tends to be transparent overall.
Minimum Contract Length
The minimum length of a contract is also a good way to compare multiple vendor proposals. Generally, the shorter the minimum length, the better, because it provides your company with more leverage. Two- to three-year contracts are expected and considered to be the norm for telecommunications. Any longer than three years, and the vendor likely isn't the best match for your company.
Financial Stability
Vendors' financial stability should be taken into account as well. Publicly held companies have their financial records available, so you should be able to look into various vendors to see whether there have been any bankruptcies or other red flags in the recent past.
Aside from red flags, knowing how shortlisted vendors are doing financially in a more general sense provides your business with more leverage. Looking over each vendor's public quarterly sales and revenue figures gives you an understanding of how desperate they'll be to close sales by the end of the next quarter or year.
Business Changes
Additional research that should be completed involves vendors' recent business changes. The more knowledge your team has, the more power it wields during discussions and negotiations. Recent acquisitions and divestitures are important to be aware of. Any changes in vendors' executive management are also valuable to know.
Scoring Responses
Evaluating RFP responses is inherently a complex and time-consuming task. One thing that can make it easier, however, is scoring responses. This takes a subjective evaluation and turns it into an objective one.
The basic idea of RFP response scoring is to assign a numerical value to RFP responses. This creates a data-based approach to evaluation, keeping it fair and unbiased. It's especially important to use response scoring when working with open-ended questions that necessitate long, complex answers.
Scoring makes it simple to compare multiple vendors and identify each vendor's strong points and weak areas. There are two main approaches to scoring responses: simple scoring and weighted scoring.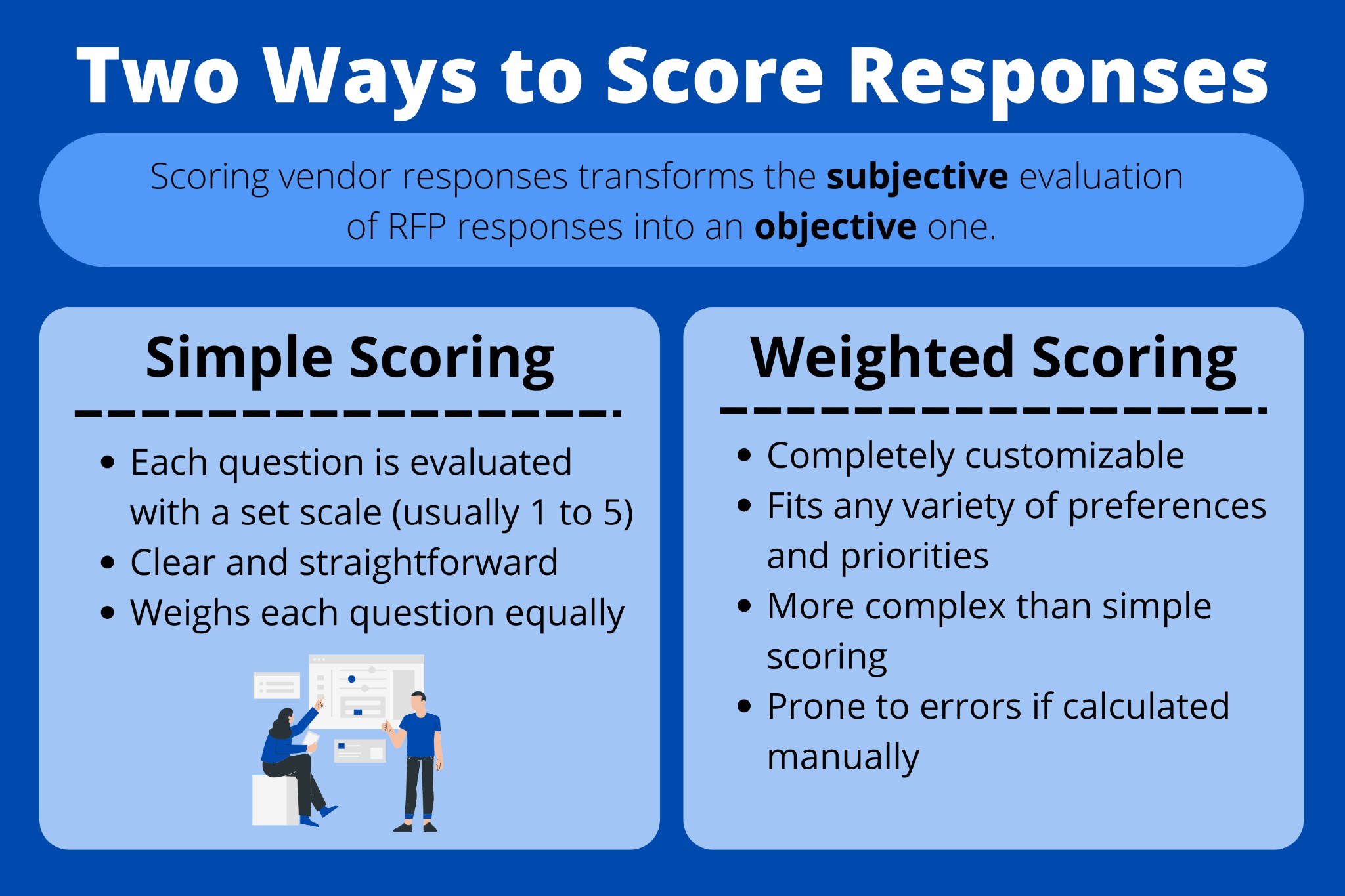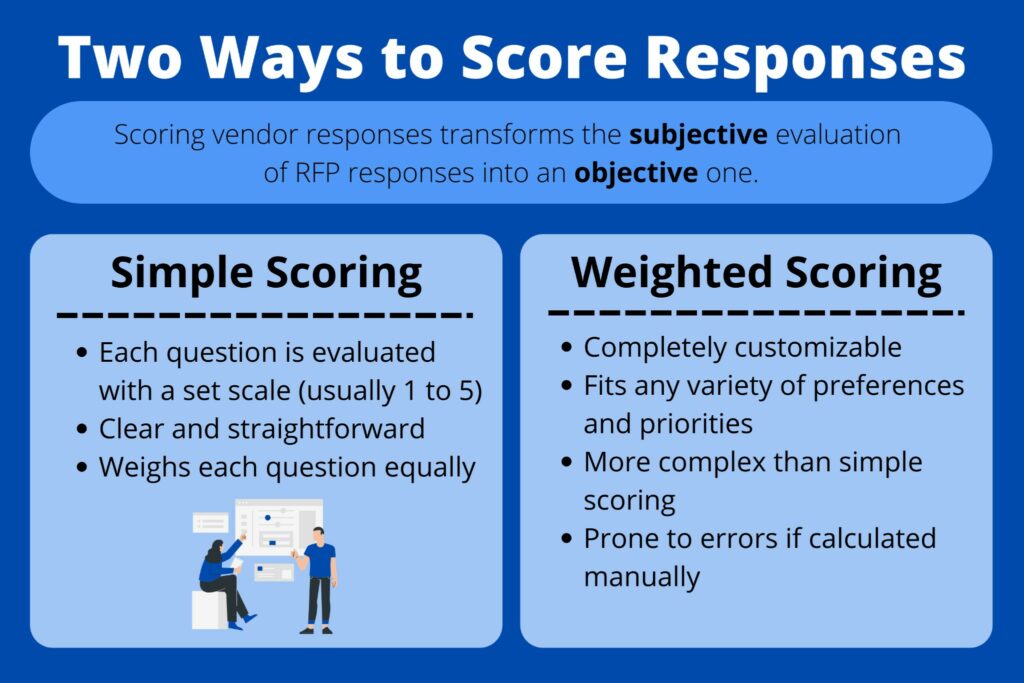 Simple Vs. Weighted Scoring
With simple scoring, each question is evaluated using a set scale, most often from one to five. A score of one means the answer is non-compliant with the company's needs and expectations, a score of five means the answer is fully compliant.
Scores of two, three, and four fall in between. Simple scoring is clear and straightforward, but the fact that it weighs every question equally (when some criteria may be more important to the company than others) can be a drawback. That's where weighted scoring comes in.
Weighted scoring is completely customizable and can be used to fit any variety of preferences and priorities. Although it's much more complex than simple scoring, it's an effective way of communicating what is most important to the company when information on how answers will be weighted is shared with vendors.
However, if weighted scoring is completed manually using a spreadsheet, there's a risk of miscalculation. It's recommended to use RFP software to employ weighted scoring with the most accuracy.
Additional Tips for the Scoring Process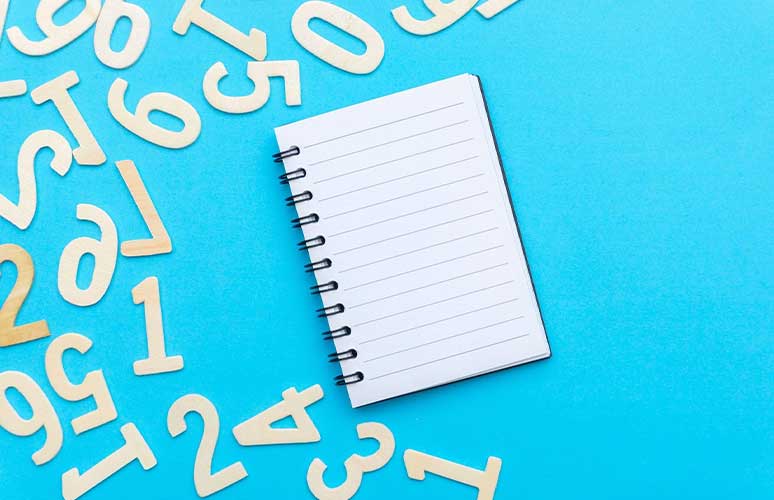 Responses can be scored in many different areas. Your company can complete a financial analysis of the offers, and you can also evaluate each vendor's range of products and services, among many other possibilities.
To make the response scoring process as effective as possible, it's vital to provide clear direction to the evaluators. Each evaluator brings their own perspective to the table, and straightforward directions for scoring can help avoid any discrepancies.
In addition, employing blind scoring is typically the best way to go in order to enforce neutrality and fairness. Blind scoring requires removing vendor-identifying information from proposals so that evaluators don't know which vendor any particular answer came from.
Be sure to publish the organization's scoring approach within the RFP so that all vendors know the specifics of how their proposals will be scored and can structure and adjust them accordingly.
Set Up Discussions and Presentations with Shortlisted Vendors
The best way to figure out your company's top two options is to invite all shortlisted vendors (generally, those with the highest-scoring proposals) to have in-depth discussions with the procurement team. At this point, the vendors can also conduct presentations that explain the solutions they have to offer more fully.


This is the perfect time for your team to ask deeper questions about the vendors' RFP responses. Engineering and technical team members on both sides should have a chance to ask detailed questions so that all parties have a clear understanding of each other's position and perspective. This allows for a greater analysis of each vendor's proposed telecom solutions.
The vendors can clarify exactly how their services will be implemented and managed throughout the proposed contract term. Below, find several questions that your procurement team may wish to discuss with its shortlisted vendors.


Questions for Shortlisted Vendors During Discussions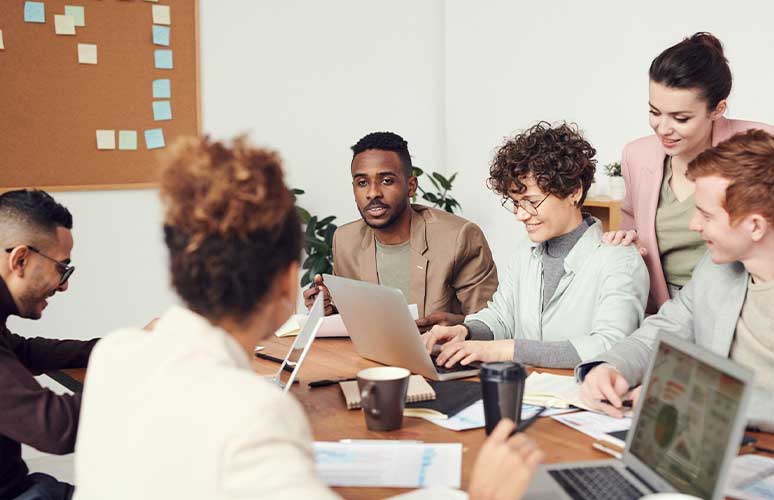 During negotiations with multiple vendors, it's important to ask the right questions so that you can obtain the information you need to settle on one vendor.
Is the vendor's network fully converged? Being fully converged means that the vendor delivers data, voice, and video services using a single network, rather than utilizing a separate network for each service. When a network is fully converged, businesses can use a single network from a single provider for all of their cloud-based and communication services.
Does the vendor's network have adequate protection against denial of service attacks? Denial of service attacks happen when malicious cyber threat actors prevent legitimate users from accessing network resources, devices, or information systems. This could include email, online banking, and other critical business functions. Vendors should have some form of protection in place to prevent denial of service attacks.
How is monitoring handled? Is it outsourced or handled in-house? Monitoring refers to the practice of continuously overseeing a network to identify any failures or deficiencies. It ensures that the network continues to perform at a high level. Generally, in-house monitoring is preferred over monitoring that has been outsourced, simply because in-house monitoring is controlled by the vendor itself rather than a third party.
Does the vendor own the cloud system it uses? Many vendors use SaaS (Software as a Service) products or rent cloud systems rather than buying. However, many companies prefer their telecom vendor to own their cloud system instead of involving a third party.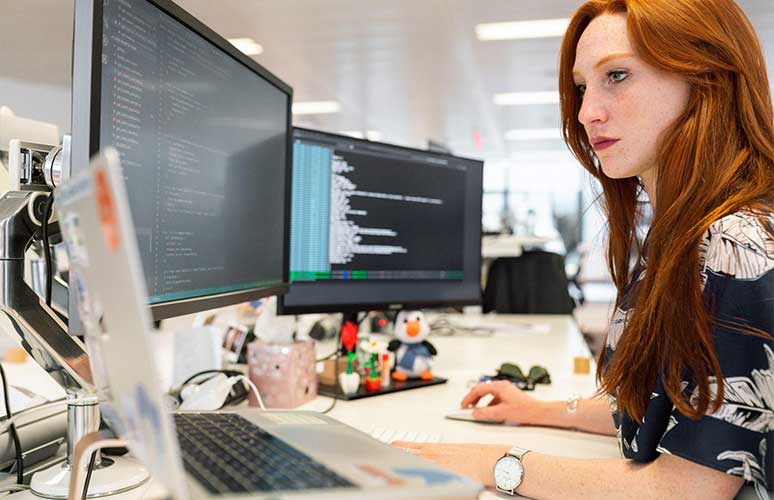 When something goes wrong, what is the vendor's plan to resolve it? It's always good to know the vendor's strategies and protocol for solving problems. Issues will inevitably pop up occasionally, but knowing that the company has specific steps in place to tackle them is reassuring.
How frequently does the vendor's infrastructure go down? What is its average response time? This is a critical topic to ask about because it can directly affect the procurement team's business. An infrastructure that frequently goes down or stays down for a long time (or both) simply isn't reliable.
What is the process to add new or additional locations to the network or service? How is the pricing determined? This is valuable information to know before entering into a contract with a vendor. Otherwise, the company may find later on that it's entirely too expensive to stick with the vendor as it grows due to high costs for adding new locations.
Why do other customers choose to do business with this particular vendor? The answer to this question can identify some of the vendor's strongest areas and show what sets it apart from the competition.
How can the vendor help your company mitigate the risks associated with transitioning to a new network provider? Asking this question encourages vendors to consider the onboarding process and how they can make it as smooth and secure as possible.
What are your business's contract renewal options? Who can exercise the right to renew? Does renewal happen automatically, or must your company provide notice or be given notice from the vendor? Will the rates remain the same if the contract changes to a month-to-month agreement? The details of renewal are a critical part of a telecom contract and should be straightened out as soon as possible.
What kinds of resources does the vendor provide? Does the vendor have a partner program of which your organization will become a part? Does it offer training and various types of support? These resources can make a difference in the level of service that your organization receives throughout the contract term.
Another advantage of these meetings is that they create an opportunity to get a better feel for the vendor team members and ensure they're a good fit for your organization. After all, your company will likely be working closely with its chosen vendor for years.
For onsite meetings with vendors, always be sure to erase whiteboards containing any information your company doesn't want to be shown. Giving vendors insider information, even through a whiteboard, detracts from your company's leverage while adding to vendors' power.


Based on the information gained during meetings and presentations, your procurement team will be able to narrow down its shortlisted vendors even more until only the two best options remain.
Technology Procurement Group Can Help

Whether you want to simplify the proposal comparison process or would benefit from assistance in selecting the best vendor options, TPG is here to make procurement easier.
Not only do we offer telecom procurement strategy consulting and IT procurement services, but we also provide telecom and wireless expense management, RFP management, wireless expense reduction, and telecom contract negotiation.
Ready to work with us, or interested in getting more information? Call us at 1-888-449-1580, email us at info@TPG-llc.com, or fill out the simple form at the bottom of the page. We look forward to hearing from you!