All of today's businesses require high-quality, efficient telecom services to perform at their best. But procuring these services proves to be quite the undertaking. Today, we'll be providing a brief step-by-step overview of the telecom procurement process.
Do you feel like you're in over your head when it comes to the procurement process? Technology Procurement Group can help! Whether you're in need of a new data network, voice service, or assistance with contract negotiation, we have the industry knowledge and experience to help you achieve your business objectives and win cost savings. Give us a call at 1-888-449-1580, send us an email at info@TPG-llc.com, or fill out the form at the bottom of the page for more information.
Outline of the Telecom Procurement Process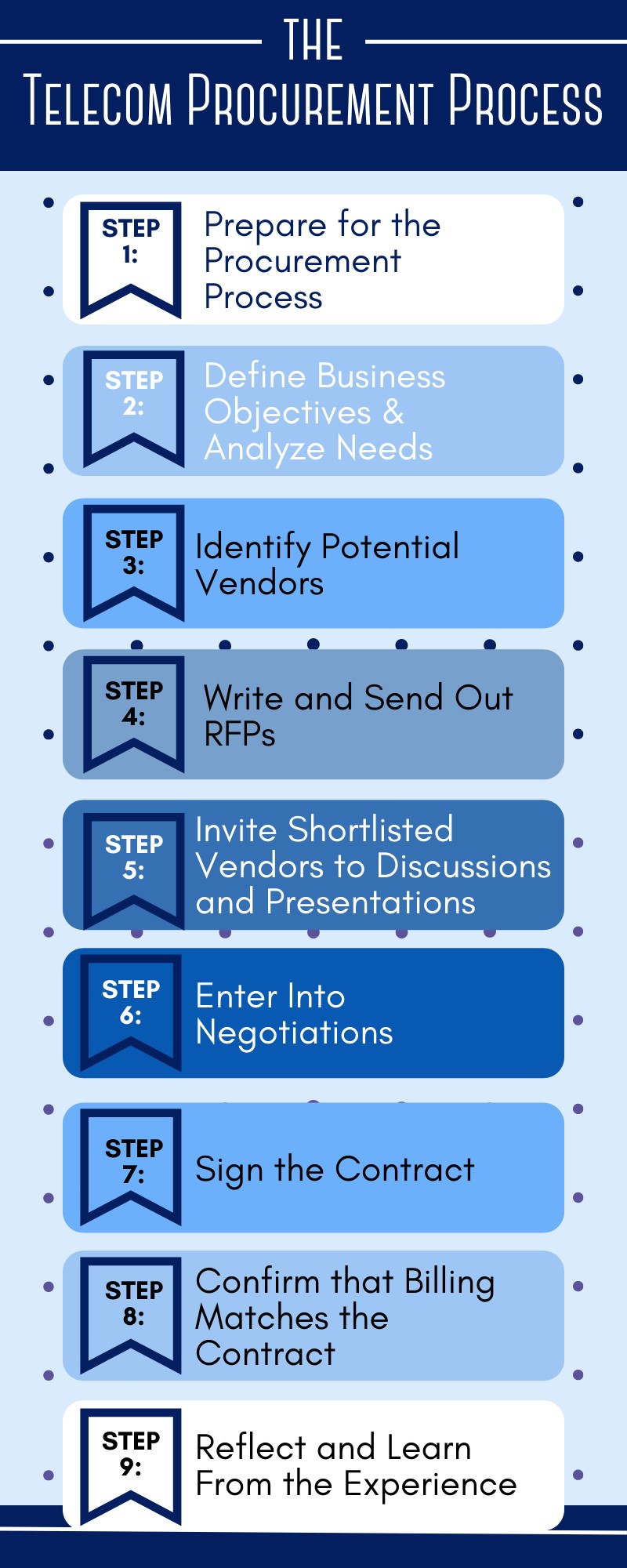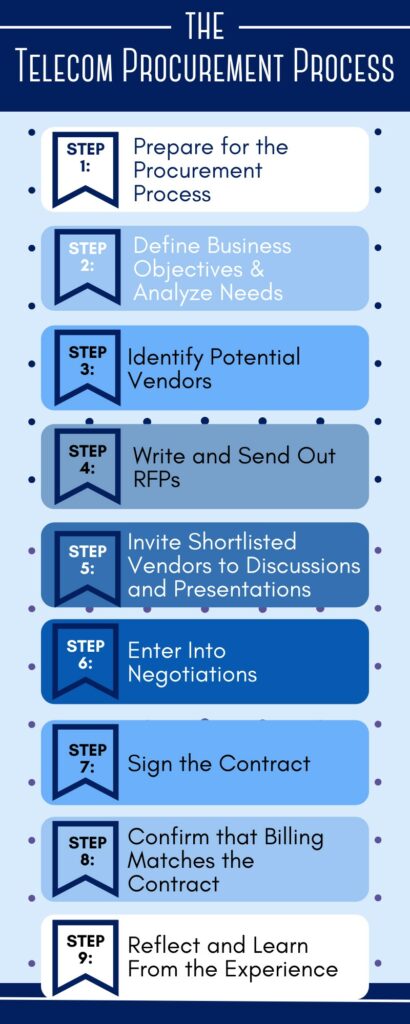 In the modern age of business, enterprises of all sizes rely on connectivity to internal and external customers through advanced telecommunications and data networking services. Reliable, low-cost solutions can be the difference between profit and loss. These solutions can provide the ability to gain new customers, keep an existing client base, and prepare for potential disasters that may impact the enterprise.
Clearly, the type of telecom services you acquire can have huge impacts on your business. Clearly, the type of telecom services you acquire can have huge impacts on your business. Besides your telecommunication procurement process also needs to be GDPR-compliant. Check out our detailed guide which illustrates everything about GDPR and Telecom Procurement.
The information technology procurement process is critical in comparing and choosing the right technology and supporting vendors to meet desired business goals. It can drive innovation and resulting profits through fast, efficient connections.
Meanwhile, the proper telecom procurement strategy is essential to finding the best vendors to achieve business objectives while getting the most out of the company's IT spend. Well-conducted procurement also protects the organization from multiple types of risks, including regulatory, cybersecurity, compliance, contract language, and others.
Learn more about each of the steps of this vital process below. We recommend beginning the procurement process around nine to 12 months before your current telecom contract ends for best results.
Step 1: Prepare for the Telecom Procurement Process
Preparing for the telecom procurement process is the first step. Preparation includes learning about several different concepts, including change management, the DIKW Model, the General Data Protection Regulation, the difference between procurement and supply chain management, vendor advantages, and the importance of leverage.
Also covered during the preparation stage are setting a realistic timeline, utilizing financial models and cost transparency, and becoming familiar with the company's telecom data, including existing contracts and previous RFPs.
The organization will need to assemble a procurement team and ensure all team members are on the same page as it prepares for procurement.
The final step of preparation involves considering working with a telecom consulting company like Technology Procurement Group to implement the most effective strategy and make the most beneficial decisions possible.
Step 2: Define Business Objectives and Analyze Needs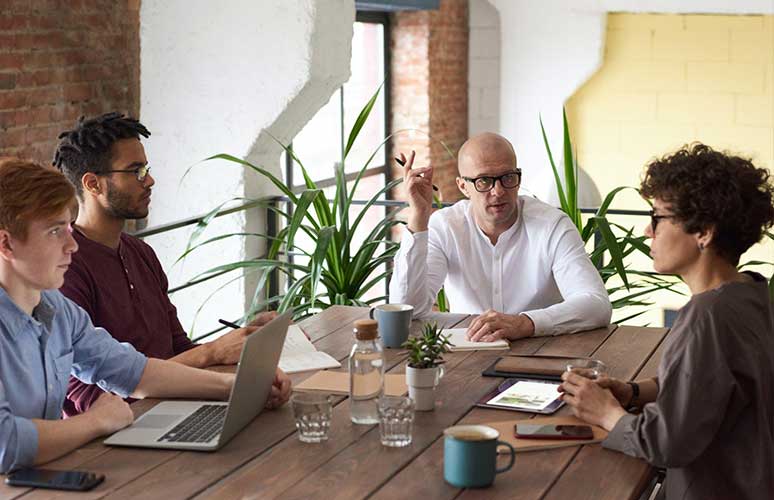 In the next step of the telecom procurement process, the company's procurement team needs to define the business's current and future objectives. In doing so, the team will be better prepared to analyze and specify the company's telecom needs, which is essential for the rest of the procurement process.
If you don't know what you need, then it's very unlikely that you'll manage to get everything your business needs out of the procurement process. Clearly understanding your company's IT procurement objectives and being able to clearly state them greatly increases your chances of actually achieving those objectives and satisfying those needs with telecom solutions.
Step 3: Identify Potential Vendors
After determining the business's telecom needs, your procurement team will be ready to identify the vendors to which it will send requests for proposals (RFPs).
This stage of the process involves:
Sending Requests for Information (RFIs) to gain knowledge of the marketplace
Doing research on and communicating with potential vendors
Targeting RFPs to the most promising vendors
Sending out NDAs (non-disclosure agreements)
Although many businesses choose to stick with the same provider they've been doing business with, it's always in the company's best interest to see what else is out there. There may be other telecom vendors offering new technology, better customer service, or more innovative solutions. Plus, your current provider may make various concessions or offer a discount if it knows that you're actively looking into other options–so even if you end up renewing your contract, you may still get a better deal than you started with.
Step 4: Write and Send Out RFPs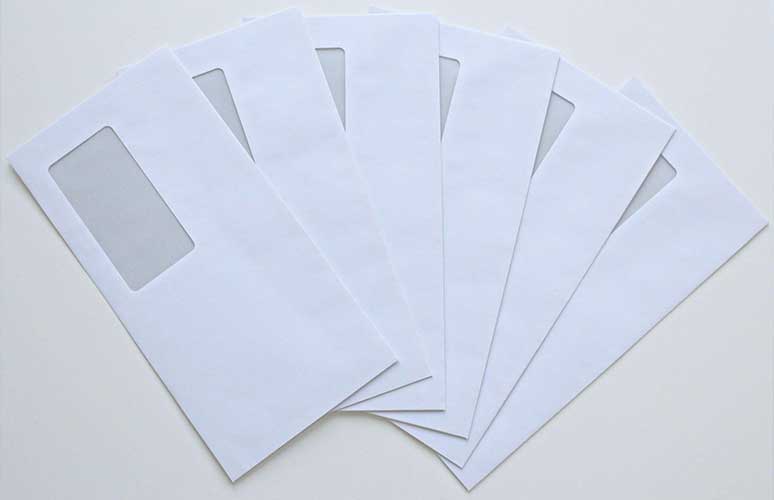 A well-written request for proposal is a necessity for businesses to receive the types of vendor proposals they're looking for. Writing an effective RFP and sending it to the right potential vendors is one of the most critical parts of the telecommunications procurement process.
Good RFPs include the company's background, telecom requirements, delivery and installation details, and selection criteria for vendors. They also outline the timeline for the project, have a section that explains exactly what the business is looking for in vendor proposals, and include various attachments and spreadsheets.
This stage of procurement can also include benchmarking, setting up an online database for vendors' responses, hosting a reverse auction to determine pricing, and requesting multiple BAFOs (Best and Final Offers) from vendors.
Step 5: Invite Shortlisted Vendors to Discussions and Presentations
After receiving responses to RFPs, it's time for the procurement team to evaluate those responses to create a shortlist of the most promising vendors.
These vendors will then be invited to more in-depth discussions and presentations that allow for greater explanations of their proposed solutions.
This part of the process is also an opportunity for all parties to ask detailed questions. Once your procurement team has met with the shortlisted vendors, it can narrow down its options to two final contenders.
Step 6: Enter Into Negotiations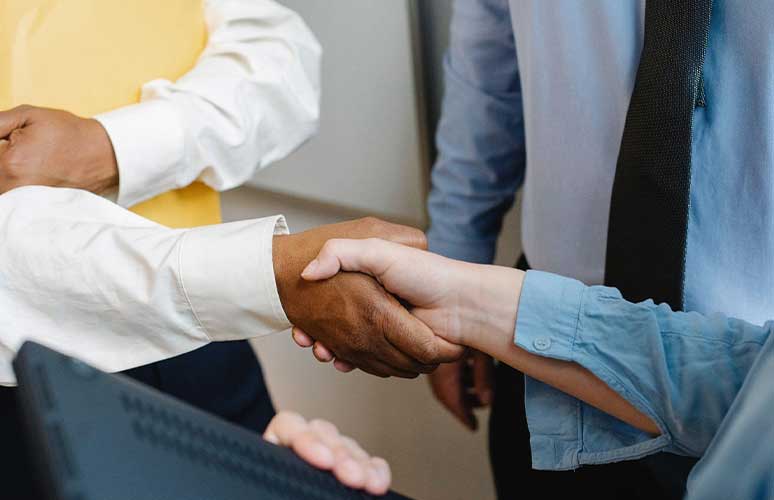 The discussions and presentations in the previous step will help your organization select the best two vendors with which to enter into negotiations.
Your procurement team must be aware of the numerous vendor strategies used during negotiations, and it'll also need to be prepared to employ various tactics to get the company the best deal possible. Both parties will likely have to make concessions, but the ultimate goal is to end up with a mutually beneficial contract.
This is also the time when a proof of concept or trial period may take place.
It's important to fully negotiate a contract with two different vendors. Only working with a single vendor can lock you into a less-than-desirable contract, but having a backup plan in place greatly improves your leverage.
Step 7: Sign the Contract
The goal of negotiating is to secure a contract with agreeable terms that addresses all of the business's telecom needs. At this point, you'll need to choose between your two remaining vendor options and decide which will be most beneficial for your business.
Before signing, your procurement team needs to read through the contract thoroughly and ensure that it reflects previous negotiations.
Once the contract is in place, a deliverable document for the procurement team and executives should be composed to function as a summary of the contract's most important points. The vendors not chosen should also be notified that they did not win the contract.
Step 8: Confirm that Billing Matches the Contract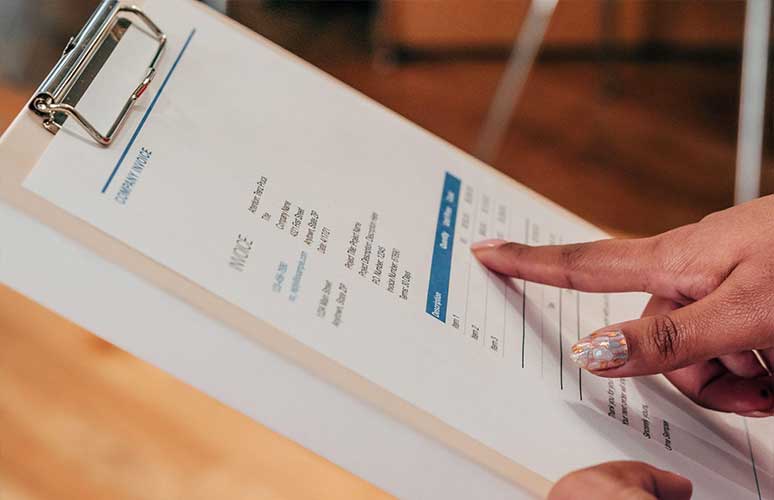 The most important part of the telecom procurement process is to match billing with the contract. It's not yet time to sit back and relax! Even though the contract is signed, it's essential to ensure that the telecom bill matches everything stated in the agreement.
Three-way matching using the purchase order, goods receipt note, and supplier's invoice is an effective way to double-check all the details. Also, learn the telecom procurement optimization process that you should apply before the procurement process closed.
Step 9: Reflect and Learn From the Experience
Once the procurement process has come to a close, reflecting on the experience and noting the lessons learned can benefit your company the next time it's looking for a new telecom vendor.
Writing down the state of the market, information about all vendors the company communicated with, negotiation tactics that did and didn't work, and more is sure to help you out the next time you find yourself going through the procurement process.
Writing down the state of the market, information about all vendors the company communicated with, telecom contract negotiation tactics that worked and didn't work, and more is sure to help you out the next time you find yourself going through the procurement process.
Technology Procurement Group Can Help You with Telecom Procurement Process

Whether you need help strategizing your organization's telecommunication procurement process or are looking for expert insight during negotiations, TPG is here to make your life easier.
Not only do we offer telecom procurement strategy consulting and IT procurement services, but we also provide telecom and wireless expense management, RFP management, wireless expense reduction, and telecom contract negotiation.
Ready to work with us, or interested in getting more information? Call us at 1-888-449-1580, email us at info@TPG-llc.com, or fill out the simple form at the bottom of the page. We look forward to hearing from you!